We are beyond the point where anybody questions whether your brand actually means anything. However, assessing exactly how much is an altogether different matter, and few are bold enough to try. Brand Finance is one of them, and they have recently published their latest top 50 of Danish brands (along with a multitude of other lists).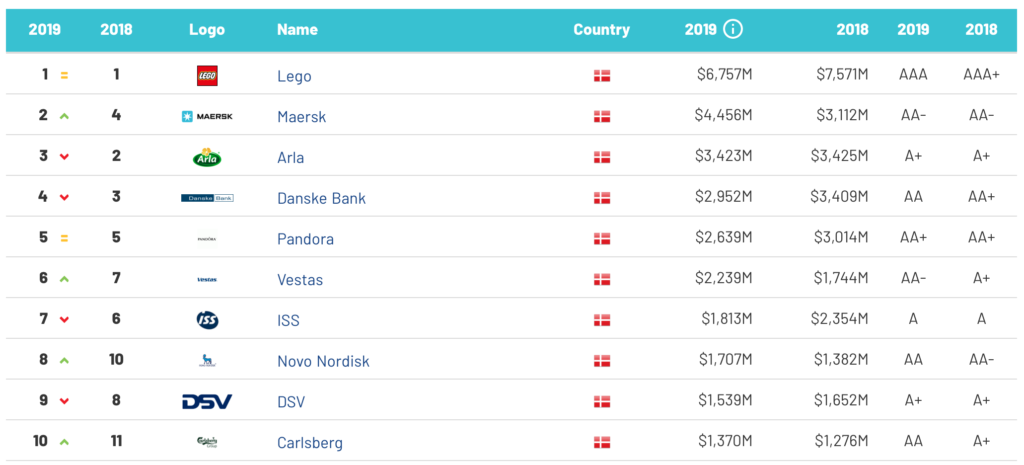 At the top, LEGO has a brand value of USD 6,8B, which is a drop compared to 2018 but still exceeds its annual turnover in 2018 of just over USD 5B. Impressive, and only very few brands in the world can match that. That does not include names such as Mercedes-Benz (top of the German list) or Deloitte (top of the Commercial Services list), but only the likes of Monster Beverage, while Coca Cola and Porsche come close.
My assumption would be that the brand value was already captured in the market valuation of a company, especially a publicly-traded one. However, if you look at number two on the list, Maersk saw a 51% increase in brand value (up to USD 4,5B), which is in stark contrast to the share price. In the same period (August '18-August '19) it dropped which in 12 months dropped 11% equivalent to a loss of USD2,7B in market value. The spin-off of the Drilling Company in April 2019 can explain some of it, but there is still no correlation to the increase in brand value.
Number nine, DSV, is from the same industry and very comparable except it has had the reverse experience. Its brand value dropped by USD 113 million (7%), while its share price increased 19%, so it today has a higher market cap than Maersk – at 1/3 of the turnover.
It is also surprising to see that Danske Bank's brand value only dropped by 13% – in relative terms 2 x DSV or in absolute terms, less than LEGO's! It doesn't have the same global exposure as LEGO, but its share price dropped by 46% in the same period and has experienced a mass exodus of customers along with a complete change of the executive team in the aftermath of the whitewashing scandal.
The company with the highest market cap, Novo Nordisk, is ranked 8th. Brand value of USD 1,7B – market cap of close to USD 100B. In other words, in a completely different world to LEGO.
To me the examples point to some of the shortfalls in trying to assess the absolute value of a brand. However, this is not the same as saying there is no value in doing so either.
I can't claim to have a better methodology than Brand Finance. I would, however, hesitate to put too much emphasis on an absolute number, but rather look at the trends. The value of your brand can be put to use in many different ways – but not discussing it actively is a wasted opportunity.